The Charlotte region's brewery taprooms will soon be showered with medals won at the 2021 North Carolina Craft Brewers Guild's NC Beer Cup, the U.S. Open Beer Championship and the Brewers Association's Great American Beer Festival (GABF) beer competition.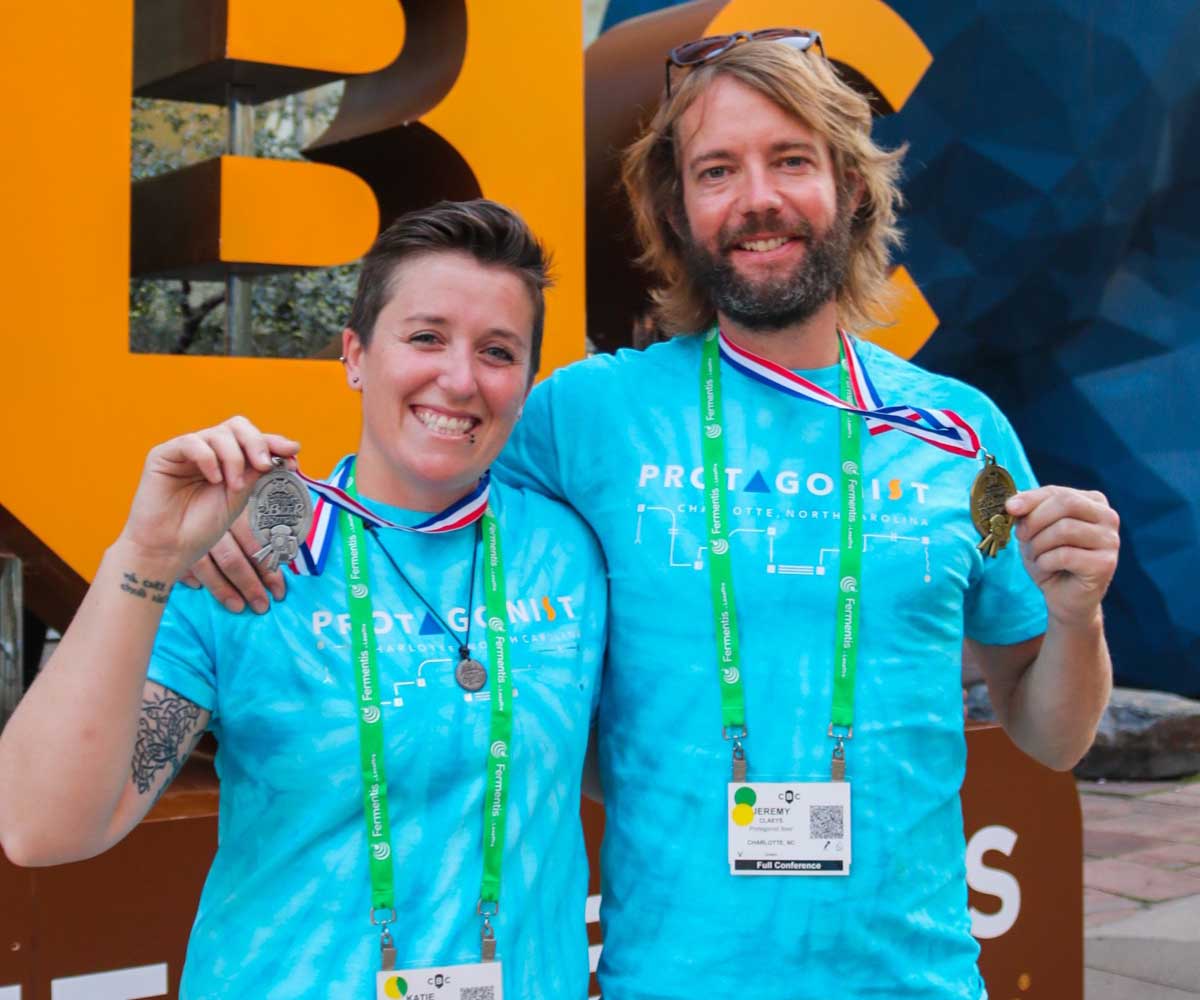 Protagonist brewers Katie and Jeremy brought home two GABF medals. Photo by Protagonist Beer.
In total, 14 CIBA brewery members from Mecklenburg and its contiguous counties won medals, highlighted by gold medals won by Protagonist Beer at the Great American Beer Festival competition for Air is Beautiful in the Special Saison category and Hop, Drop 'n Roll from NoDa Brewing in the American IPA category at the U.S. Open Beer Championship. 9,680 beers were entered into the 2021 GABF competition compared to 9,497 in 2019. The GABF awards ceremony was held in conjunction with the 2021 Craft Brewers Conference.
"Knowing several of Charlotte's medal-winning brewers from the time they were impressing at a number of area homebrew club competitions is a testament to how deep the beer culture runs in Charlotte," said Rick Benfield, board member of the CIBA, co-owner of GoodRoad CiderWorks and 16-year member of the Charlotte-based Carolina BrewMasters homebrew club.
NoDa Brewing's Chad Henderson and Ben Dolphens form Divine Barrel Brewing have logged a combined 25 years as members of the Carolina BrewMasters.
"Chad has been winning big-time competitions for NoDa for years so we have a little catching up to do at Divine Barrel, but I'm stoked for him, our brewery and the other Charlotte-area brewery winners," said Ben Dolphens, head brewer and co-owner of Divine Barrel Brewing whose The BIG Lubelski won silver in the GABF's grätzer beer category in 2018.
HIGHLIGHTS
In addition to winning bronze for their Spring Farms Strawberry Kolsch in the U.S. Open Beer Championships in the American Style Berry beer category, Model A Brewing was called out in U.S. Open's top 10 favorite beer names for Magic Carpet Rye'd, which also won bronze at the GABF competition in the rye beer category.
The full listing of CIBA award winners across all three competitions:
2021 NC Brewers Cup:
American Lager
Silver – Beer Flavored Beer – Divine Barrel Brewing
Bronze – Baller Beer – Cabarrus Brewing Company
International Lager
Bronze – Lager Days – NoDa Brewing Company
International Pilsner
Gold – Queen Charlotte – Protagonist Beer
Honorable Mention – Czech Please -Lenny Boy Brewing
European Amber Lager
Bronze – Mecktoberfest – The Olde Mecklenburg Brewery
Stout
Bronze – Slainte – Legion Brewing Co.
American Amber & Brown Ale
Bronze – Aislinn's Amber – Twenty-Six Acres Brewing Co.
Double IPA
Silver – You Know What Makes Me Feel Good – Free Range Brewing
European Sour Ale
Silver – Guava Lamp – Cabarrus Brewing Company
Historical Beer
Gold – The Big Lubelski – Divine Barrel Brewing
Fruit Beer
Honorable Mention – Key Lime Kolsch – Birdsong Brewing Company
Spice, Herb or Vegetable Beer
Honorable Mention- Jalapeño Pale Ale – Birdsong Brewing Company
Wood-Aged Beer
Gold – Barrel Aged Varsity – Town Brewing Company
Specialty Beer
Gold – Sun Savvy Wheat – Cabarrus Brewing Company
NC Home-Grown Beer
Honorable Mention- Barrel Aged Varsity – Town Brewing Company
U.S. Open Beer Championships
American IPA
Gold – Hop Drop n' Roll – NoDa Brewing Company
Robust Porters
Bronze – Coco Loco – NoDa Brewing
Belgian Tripel
Silver – Sugar Creek Belgian Dubbel – Sugar Creek Brewing Company
German Lager/Pilsner
Gold – Crushing Pils – Devil's Logic Brewing
Heller Bock/Maibock
Bronze – Maibock – NoDa Brewing Company
American Style Berry Beer
Bronze – Spring Farms Strawberry Kolsch – Model A Brewing
Special Recognition in the top 10 favorite beer names:
#6 – Magic Carpet Rye'd – Model A Brewing
Great American Beer Festival Competition
Specialty Saison
Gold – Air is Beautiful – Protagonist
Rye beer
Bronze – Magic Carpet Rye'd- Model A Brewing Co.
Golden or Blonde Ale
Bronze – Cavu – NoDa Brewing Company
English Mild or Bitter
Silver – Sir Marcus – Protagonist