The Charlotte Independent Brewers Alliance is proud to announce that the 2nd Annual CIBA Brewed Weekend will be held September 28 – October 1. Its a celebration to kick off NC Craft Beer Month during the month of October.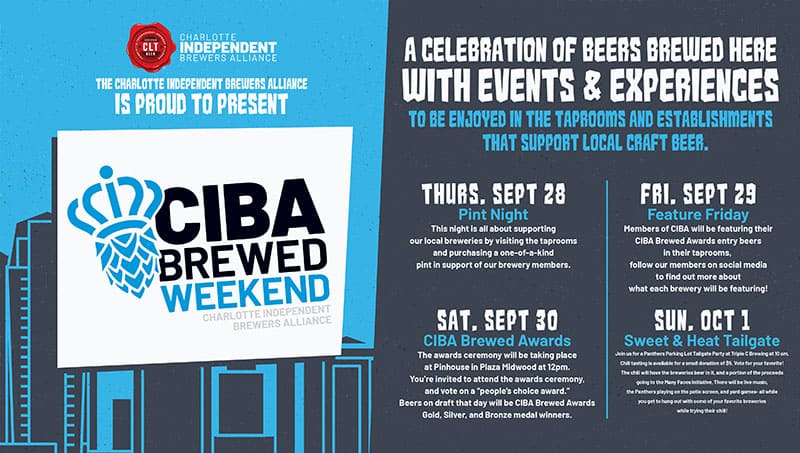 The Charlotte Independent Brewers Alliance, nicknamed CIBA, celebrates its members, who are Charlotte Metro-based and operated breweries and cideries. Locally brewed and fermented beer and cider, and local businesses make for an unbeatable combo! CIBA can't wait to show off what is fast becoming Charlotte's largest cultural phenomenon: great local breweries!
ALL THE DETAILS
Thursday, September 28 – Pint Night
Commemorative pint glass for only $1 at participating breweries. Local artist Brett Toukatly created the illustration for this year's glass.
Friday, September 29 – Feature Friday
Breweries will feature what makes them who they are. Also featured are the beers they submitted to the judging for the awards.
Saturday, September 30th – CIBA Brewed Awards
Sunday, October 1 – Sweet & Heat Chili Cook-Off & Bake Sale
Breweries will compete at Triple C Brewing Co. in a chili cook-off and silent auction bake sale. Chili tasting and auction will start at 11 a.m., followed by the Panthers/Vikings football game at 1 p.m. There is a suggested $5 donation to taste, with a portion of the proceeds going to the Many Faces Initiative scholarship program.